Oregon Earthquake Commission Predicts Potential Catastrophe
March 27, 2013
It is impossible to predict exactly when an earthquake will strike, but the Pacific Northwest is due for a 9.0 magnitude quake along the Cascadia subduction zone as early as the next 50 years. According to a recent resiliency report by the Oregon Seismic Safety Policy Advisory Commission (OSSPAC), such an earthquake would devastate much of western Oregon. Buildings will crumble, bridges will fall, and thousands of people will loose their lives. The state of Oregon will be looking at $32 billion in economic losses.
The Earthquake Commission's Oregon Resiliency Plan contains a series of recommendations for reducing risk and improving recovery for the next Cascadia earthquake and tsunami. It includes a statewide plan for renovations to schools, highways, and emergency response facilities. Teams were formed to handle various aspects of the plan including: Earthquake and Tsunami Scenario , Business and Work Force, Coastal Communities, Critical Buildings, Transportation, Energy, Information and Communications, and Water and Waste Water task groups. Each group was responsible for evaluating and formulating a plan for how to best handle their specific aspect of the disaster.
Are you prepared for a major earthquake where you live or work? What are your concerns for Oregon when the earthquake hits?
For more than 3 centuries, a massive geological fault off America's northwest coast has been dormant. During this time, Lewis and Clark traveled from Washington, D.C. to the mouth of the Columbia River and back. They told the new United States about what came to be known as the Oregon Country. Thousands of settlers started crossing the Oregon Trail to setup communities throughout the Willamette Valley area, in coastal valleys, and beside natural harbors. The modern history of Oregon began with a provisional government established in 1843 and then statehood in 1859. Many industries rose up and fell, cities and towns grew but still the fault lays silent.
It was not until the 1980s that scientists recognized the Cascadia subduction zone as an active fault and that it poses a major geological threat to Oregon. Ten years later, Oregon's building codes were updated to confront this newly found earthquake hazard.
Scientists have recorded a long history of earthquakes and tsunamis on the Cascadia subduction zone, and state and local officials have plead with Oregonians to prepare for the next one.
According to the new Resiliency Plan, Oregon residents need to consider their own needs as the state prepares for the disaster. They recommend that everyone should prepare for their personal needs with respect to communication, fuel for heat and travel, transportation, food, water, emergency kits and medicine. They say that local officials can only do so much and that individuals need to prepare for their own needs. The Commission has stated that preparing to be without utilities and services for only 72 hours is not long enough. They say that, depending on your location, you should be ready for at least 3 weeks without utilities and services.
They say that preparedness is much cheeper than recovery. For every $1 spent on preparation, you'll save $4 on recovery. When this 9.0 magnitude earthquake happens, 15 to 20 million people will be effected. People in from Northern California up to British Columbia and as far east from the coast as the Cascade mountains.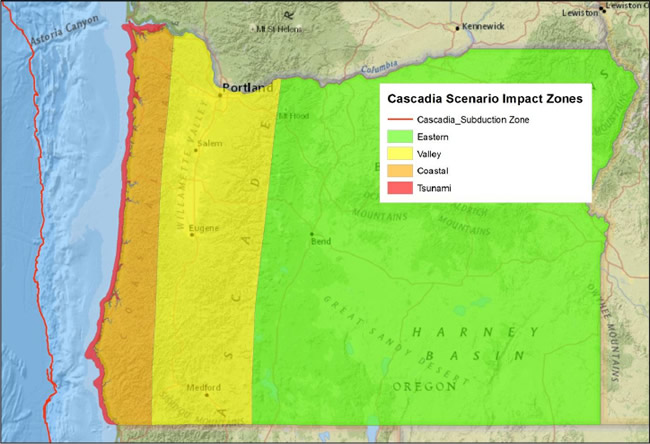 Impact zones for the magnitude 9.0 Cascadia earthquake scenario. Damage will be extreme in the tsunami zone, heavy in the Coastal zone, moderate in the Valley zone, and light in the Eastern zone.
Sources:
http://www.oregon.gov/OMD/OEM/osspac/docs/01_ORP_Cascadia.pdf
http://www.oregon.gov/OMD/OEM/osspac/docs/Oregon_Resilience_Plan_draft_Executive_Summary.pdf